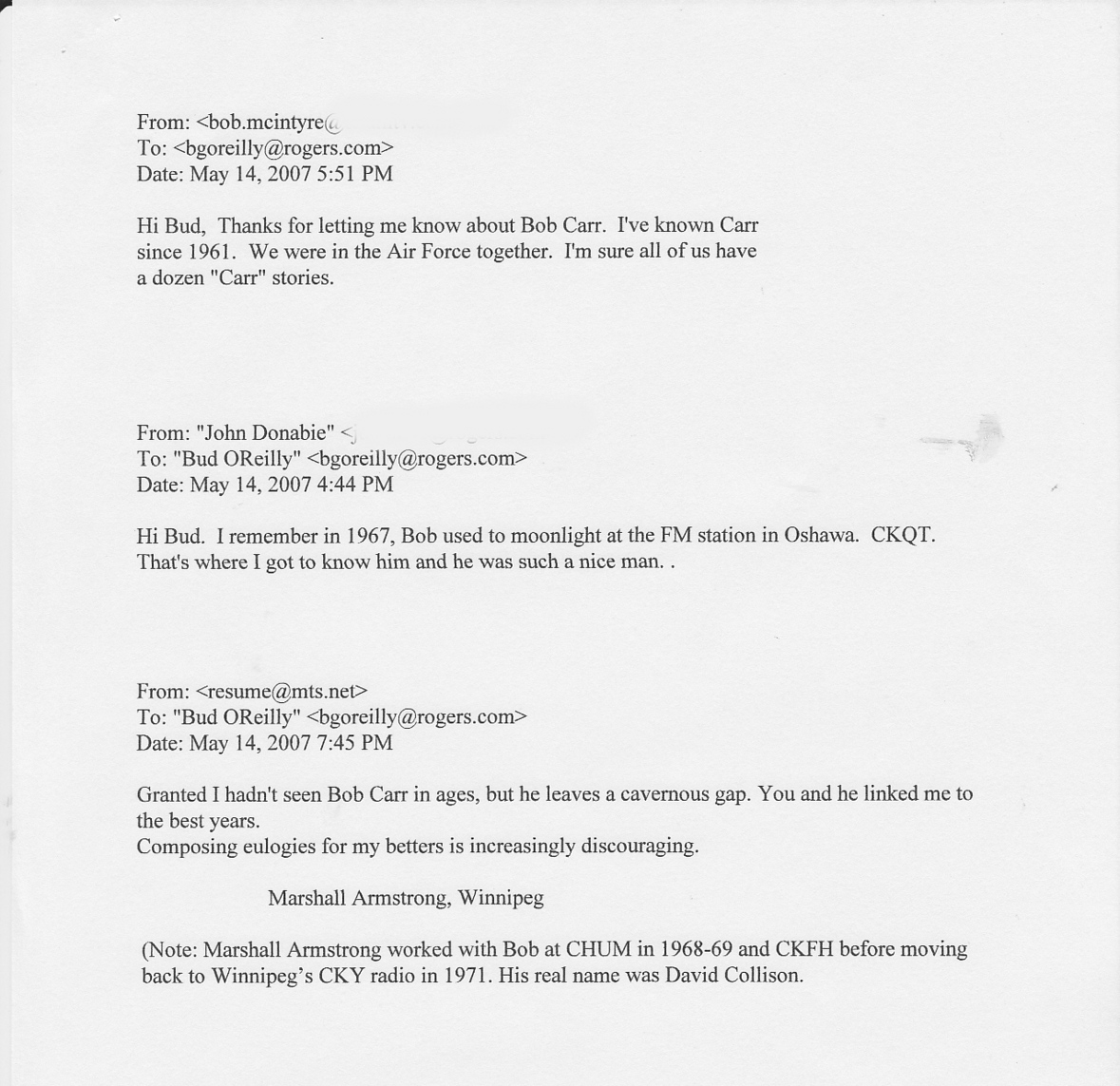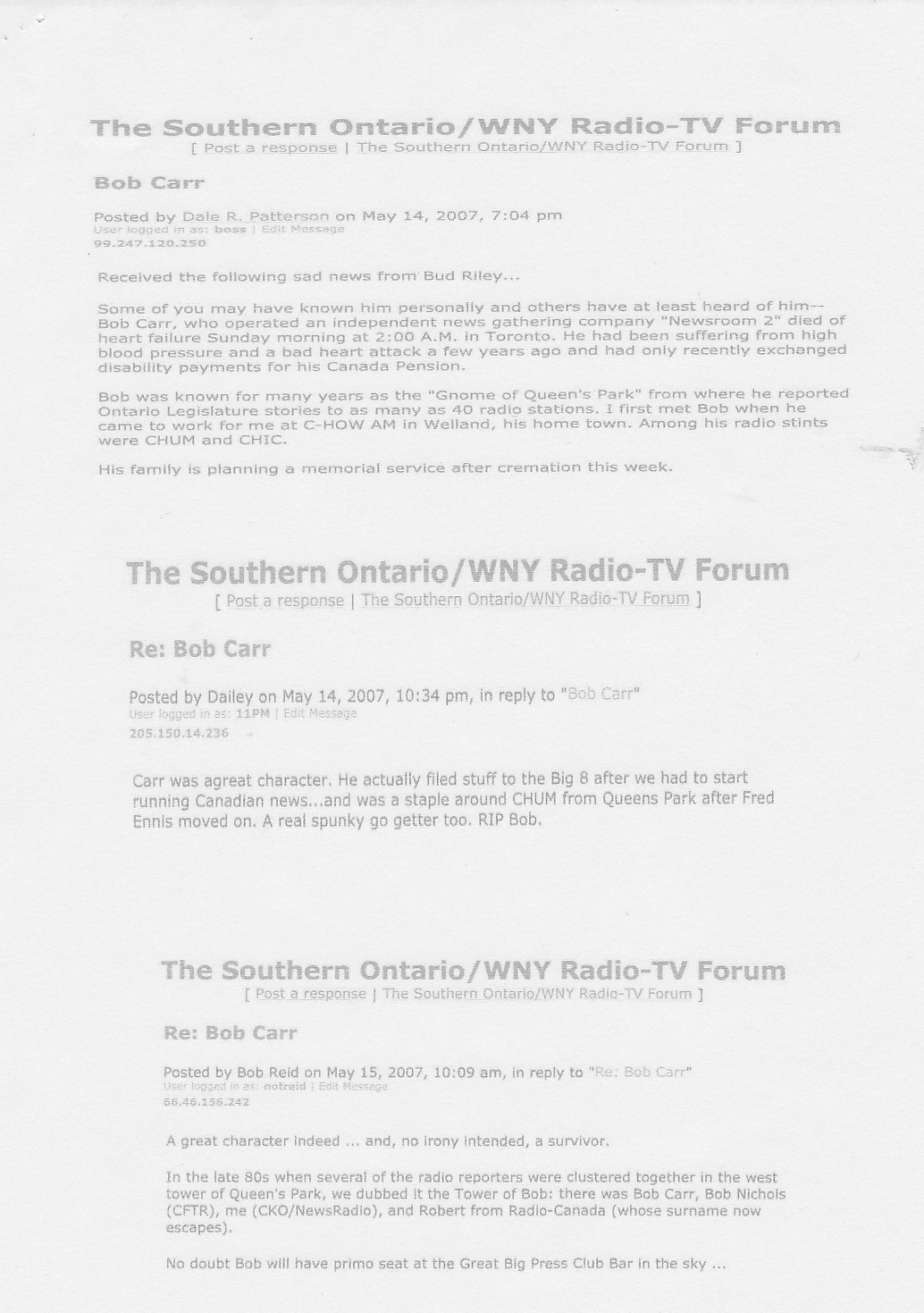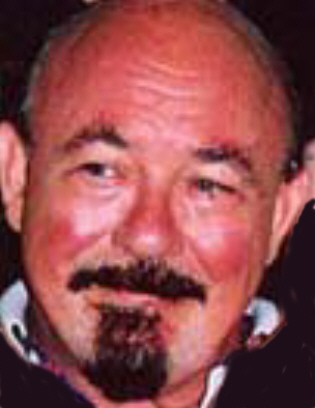 In the late 90s, I introduced Bob to word processing giving him his first computer, a 286 IBM clone. Before long, he required more space to hold all the files he was creating so I found a 386 in good shape with a larger hard drive. Within a couple of years he had advanced far enough to build his own computers by raiding local dumpsters in his neighborhood to find computer parts. The picture on the left was taken by me at the first unofficial C-HOW reunion in Welland. His colour, highly flushed, is the result of high blood pressure which he and his doctor were having difficulty in controlling. I first noticed his colour from a photo he showed me of his son Rob's wedding in Korea. I inquired if it was a Korean custom to paint the face of the groom's father at a wedding? No one else in the photo look like that.
It was a short time later that Bob suffered his first heart attack. ​
From: Bud O'Reilly,

Sent: Monday, May 14, 2007 3:29 PM

Subject: Death of a radio man

Some of you may have known him personally and others may at least have heard of him--Bob Carr,
who operated an independent news gathering company, "Newsroom 2" died of heart failure
Sunday morning at 2:00 AM in Toronto. He had been suffering from High Blood Pressure and
a bad heart attack a few years ago and had only recently exchanged disability payments for his
Canada Pension.

Bob was known for many years as "The Gnome of Queen's Park" from where he reported Ontario
Legislature stores to as many as 40 radio stations. I frst me Bob when he came to work for me at
C-HOW AM in Welland, his (adopted) home town. Among his radio stints were CHUM and CHIC.

His family is planning a memorial service after cremation this week.



To: Bud Reilly

Hi Bud,

I am sorry that I didn't send this earlier and I would like to thank you
for keeping me informed about Bob Carr. I was sorry to hear of his passing and
I am sure that he will be missed. Bob Carr was one of the guys I really looked up
to in this business.

I'm in fairly good health but I'm stil attected by the results of a stroke which hit
me in England 3 years ago and I'm still dependent on my wife to take me places.

Thanks again for keeping us informed,

Sincerely, Tom


(note: Tom, a retired CJOY Guelph news director, died the following year -- 2008)